Slip or trip and fall accidents are alarmingly common, so much so that the Centers for Disease Control and Prevention (CDC) reports they are the leading cause of injury-related visits to emergency rooms. The National Floor Safety Institute also states that more than one million visits to the hospital each year are because of fall accidents.
It could be a wet floor, a loose rug, or a crack in the ground – the smallest thing can result in a life-changing injury in an instant. If you decide to file a personal injury claim against those who are responsible for your injury or their insurance company, brace yourself, because the justice system can be slow-moving. It can take several months, if not years, for the insurance company to settle the case or the court to deliver a verdict.
But every dark cloud has a silver lining. As difficult as this time is, you can get through it with a pre-settlement loan from Pinnacle Legal Funding. We offer slip and fall lawsuit loans and cash advances to people like you who are in the middle of a personal injury lawsuit so they can take care of their urgent expenses. You only pay us back if you win a financial settlement or verdict. Call us at 1-877-4-FUNDING or send us a message online to learn more.
What is a Pre-Settlement Loan?
A pre-settlement loan, also known as lawsuit loan or litigation funding, is a cash advance provided by a company (like Pinnacle Legal Funding) based on the expected settlement of your ongoing case in a civil court. It's not a loan in the traditional sense because you are basically borrowing from your future self, i.e., you are getting a part of the settlement (out-of-court settlement or a court verdict) you expect to receive in the future, today.
Here is how it works: Let's say you slipped on a wet floor at a convenience store and broke your leg. Now, you not only have the hospital bills to pay, but you can't go to work either. So, you decide to sue the store. But court cases for a slip and fall accident take time, and you have a family to take care of. You can apply for a pre-settlement funding (also known as slip and fall lawsuit loans or cash advance) at this point and use it to pay for:
Rent or mortgage payment
Electricity, water, and other utility bills
Groceries
Your children's school fee
Medical expenses (hospital stay, ER bills, prescription medications, etc.)
Since these slip-and-fall lawsuit loans are "non-recourse" legal funding, you only owe the funding company if your attorney can obtain a settlement amount for you, either from the insurance company via negotiations or the court order.
At Pinnacle Legal Funding, we have approved fall accident loans (or fall lawsuit funding) for people who sustained injuries in various slip-and-fall situations, including:
Wet or slippery floors
Uneven pavement or sidewalks
Cluttered walkways
Loose or torn carpets
Poor lighting in hallways
Broken or uneven stairs
Exposed cables or wires
Potholes in parking lots
Missing handrails on stairs
Cracked or uneven flooring
Sudden change in floor level
Ice or snow accumulation
Spills not cleaned promptly
Inadequate warning signs
Malfunctioning escalators or elevators
Keep in mind that even though pre-settlement funding is not like a traditional loan, it still comes with interest rates. When you pay back the slip and fall accident legal funding or cash advance, you will pay a bit more than what you borrowed. Make sure you understand how much interest you will be charged before you agree to the loan.
How Do I Borrow Money for a Pending Lawsuit?
The only requirement to apply for slip and fall lawsuit funding or a slip and fall lawsuit loan is to have a lawyer represent your case, and that lawyer should be working on a contingency basis. Simply put, the lawyer's payment will come from a percentage of your settlement or award.
To lawsuit loans or cash advance companies, this shows that the attorney has thoroughly evaluated the slip and fall case and found it strong enough to take on under a contingency agreement. As the attorney's payment is directly tied to the success of the case, it minimizes the risk for the funding provider.
Then once you have found a trustworthy slip-and-fall lawsuit loan company, all you need to do is fill out the application. Most companies, including Pinnacle Legal Funding, offer free online applications that take just a few minutes to fill out. This form will ask you about the details of your case and your attorney's contact information.
The company's underwriters will review it and talk to your slip and fall accident attorney to accurately analyze several aspects of your case, such as:
What caused the slip-and-fall accident
The extent of your injuries
How clear it is that the at-fault party (defendant) caused your injuries
The insurance policy limits of the defendant
After reviewing your slip and fall claim, the company will make an offer for a cash advance, which will be a portion of your expected settlement. With Pinnacle Legal Funding, you can get 10-20% of the amount your lawyer expects to get. We will send over an agreement for you and your lawyer to look over. It will detail the amount you are getting, the fees involved, and the repayment terms.
Once everything is agreed upon, we will send you the money. It could be a check or a wire transfer, getting you the funds quickly, sometimes in as little as 24 hours.
What is the Highest Settlement for a Slip and Fall?
Most slip and fall accident lawsuits are settled confidentially and the details are never made public. However, there have been several high-profile slip and fall lawsuits where the settlements have reached millions of dollars. For example, recently the Burger King company in Florida was ordered to pay $8 million to a customer who was injured after falling in their restaurant's bathroom.
Of course, these are exceptional cases. The average slip and fall settlement may range from $25,000 to $250,000.
Generally speaking, the more severe your injuries are, the higher the fall accident settlement reward is likely to be. To get a more accurate answer, it is best to consult with an experienced personal injury lawyer in your area. They will be able to tell you how much you can realistically recover from the property owner or another negligent party based on:
The total amount of your medical bills, including both current and future medical bills
The lost wages or the income you have lost because of missed work and your reduced ability to earn
The pain and suffering you have suffered as a result of the slip and fall accidents
The liability of the defendant (the more obvious their fault, the stronger your case)
Comparative negligence – generally, if the victim is partially at fault for the accident, it can reduce the settlement amount
If the actions of the property owner or another at-fault party were particularly deplorable or egregious, the court might add a substantial amount in addition to your standard compensation in the form of "punitive damages." Unlike financial support for medical expenses etc., these damages are specifically meant to punish the defendant for their reckless behavior and to deter them and others from repeating it.
Can You Get a Slip and Fall Lawsuit Loan on a Class Action Lawsuit?
A class action lawsuit is when a lot of people come together to sue another entity. It can be a bit more challenging to get pre-settlement funding here because:
Slip-and-fall lawsuits can take years to complete.
The money has to be shared with a lot of people, which means each plaintiff gets a proportionate piece of the pie.
You should seek a class action lawsuit funding for fall injuries from a dedicated company that is willing to fund injured victims in these cases.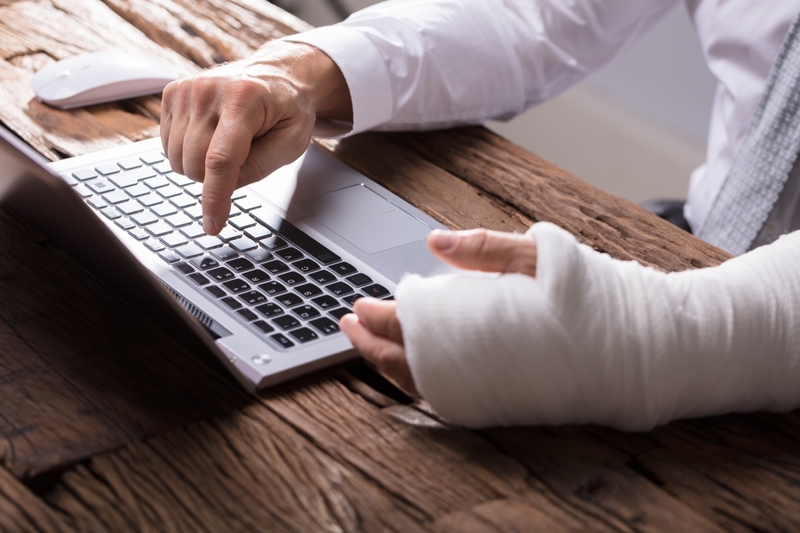 Benefits of Working with Pinnacle Legal Funding
With a deep understanding of how slip and fall accident personal injury lawsuits work across the country, we know how incredibly difficult it can be to go on with your regular life with a slip-and-fall case pending in court. If you are not sure how we can help, consider this:
Get money within 24 hours
We know that the reason why you are applying for a pre-settlement loan or lawsuit funding is that you are in a tight spot, financially speaking. You probably would have applied for a traditional loan if you could. So, we don't waste any time reviewing your application and sending you the fall accident loans money you need to pay medical bills or any other expenses.
The majority of our clients have the fall accident funding or cash advance funds deposited in their bank account within 24 hours after their application is approved, which takes 24-48 hours.
We collaborate with your attorneys
While we talk with your lawyer to understand the minutiae of your case, we never interfere with the legal process. Your lawyer is still 100% working for you and only you. We will never step in and try to rush the negotiation process with the insurance company or push for a certain outcome. Your lawyer won't share confidential details with us either. We are just here to provide you with the financial support you need right now, and nothing more.
We help you get a fair settlement
When you are struggling to keep the roof over your head because you can no longer work, it's tempting to say yes to the first offer thrown your way even if you know how unreasonable it is. With our litigation funding, you gain the required time and financial strength to fight your case without being in a hurry to settle. You and your attorneys can focus on properly building your case, without falling prey to the dodgy lowball offers insurance companies are known for.
We don't look at your credit history
Unlike most types of traditional loans, in the case of personal injury lawsuit loans, the settlement funding provider may not check your credit score to see how risky it is to lend you money. At Pinnacle Legal Funding, we have absolutely no interest in assessing your credit score or credit history because you are expected to pay back the loan with the money you get from your settlement. So, we are more focused on the details of your case than your financial history. If we think your case is strong, we will give you the money, even if your credit score is low.
Easy Application, Quick Funding – Get Started Now!
Though based in Miami, Pinnacle Legal Funding operates in 39 states to ensure almost everyone can access our services from nearly anywhere in the U.S. Our fall injuries lawsuit loan application process is straightforward. We aim for a quick loan approval typically followed by disbursement of funds to your account within 24 to 48 hours. There are no hidden fees to worry about for your fall accident funding.
Once you have filled out the form, we and your lawyer will take it from there. You don't even have to worry about paying us back; when your lawyer receives the settlement money on your behalf, they will use a part of it to pay us back, and you will get the rest, minus their contingency fee. If you have any questions or concerns, don't hesitate to call us at 1-877-4-FUNDING or drop us an email at info@pinnaclelegalfunding.com.